Team
Du möchtest mehr über die Leute erfahren, die Kipepeo-Produkte herstellen? Darüber freuen wir uns und stellen dir die besonderen Menschen vor, die mit Sorgfalt und Liebe unsere Produkte in Nairobi herstellen. "Meet our Team".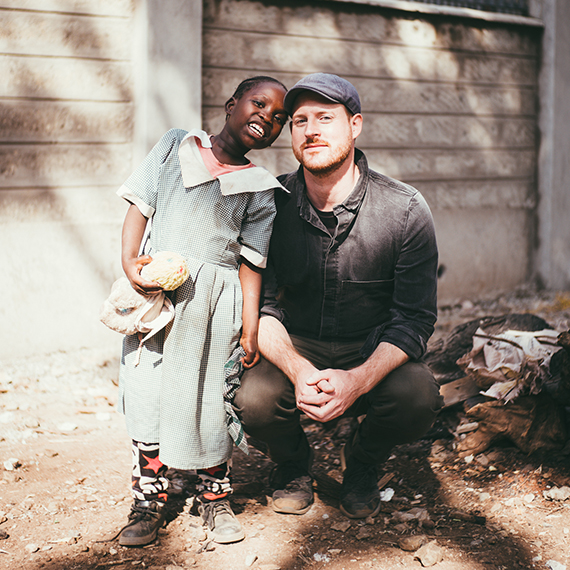 Martin Kluck
Hi, good to have you around! My name is Martin and I´m living in Stuttgart with my girlfriend and our little son.
I never actually intended to work in the fashion industry, but life itself writes the craziest stories.
I suppose this is one of them.
I traveled to Tanzania for the first time in 2008 to work as an English teacher at a small primary school for several months.
Before I left back home, one of the students, back then 7-year-old Abigail gave me a letter with a little drawing as a goodbye present.
The drawing showed a little cartoon-like character, next to it the written words "Love You". Back in Germany, I printed the drawing on a T-shirt, just to have a special memory and a constant reminder of the time in Tanzania.
I kept in touch with the teachers and parents of many students from Tanzania. Thereby I found out that Abigail's parents were having trouble paying her school fees.
As a student, working part time on a construction site to pay my own college fees I tried to find a way to support Abigail. So I started printing Abigail's drawing on shirts and selling them to family, friends and then to friends of friends until more and more people demanded one of these unique shirts. I printed the shirts with a small printing press that I had bought on Ebay and over the next few months our shared apartment gradually became a printing department and warehouse for T-Shirts.
By selling these shirts I was able to pay Abigail's school fees for the next few years- That was the beginning of Kipepeo-Clothing.
Until today, Kipepeo is a self-financed, owner-managed and award-winning social enterprise that has grown independently over the years. We are proud of our great team in Germany, Tanzania and Kenya and what we have created since 2008.
We are with both feet on the ground and we do our work with joy and pride. I think that's the main reason why Kipepeo has been around for so long.
We are happy if you take the time to find out more about Kipepeo on our website.
Thanks lots
Martin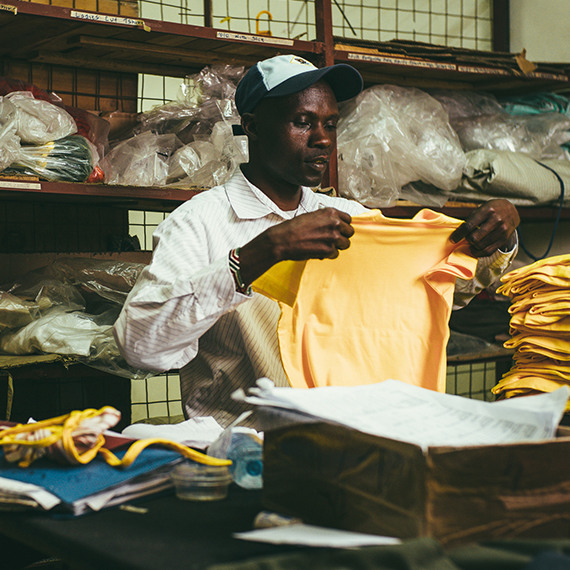 Justus Onduso
My name is Justus. I am 40 years old from Nyamira County. I joined Kiboko in the year 2010 as a general laborer (trimmer and checker). In 2013, I was promoted to stores department, where I do final checking and packing. In 2014, I started saving my salary and managed to open a M-Pesa shop, where I have employed two people. The extra income earned from my shop helps me pay the school fees for my children. I am looking forward to enlarging my business so that I may employ more people. This is a very good reason as to why I like working for Kiboko Leisure Wear.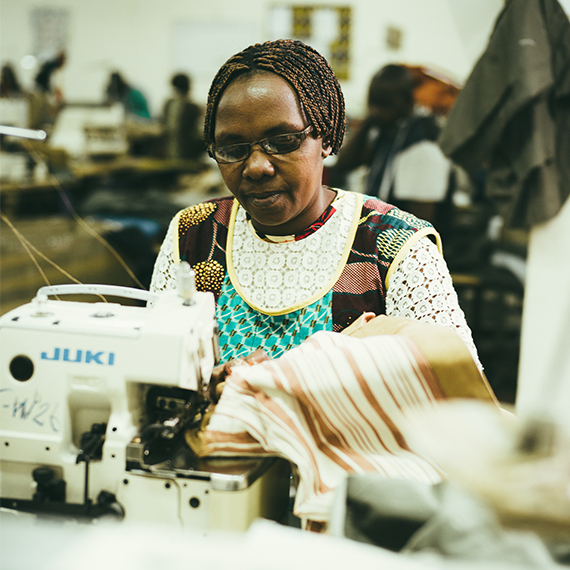 Jane Mwangi
My name is Jane from Muranga County. I am 45 years old. I joined Kiboko in the year 2007 as an over-lock machinist. In my twelve years of experience I can now over-lock all kind of garment in less time. From my salary I was able to save money over a period of three years. I also got a loan from Kibos self-help group and bought a cow. One year later I started milking and as of now I am getting 30 liters per day selling each liter for 40 Shilling. The extra income is really helping me to meet my expenses. I am grateful to our director (Sabine Hüster), who encourages us to save money to start a business of our own. Below is a photo of my cow:
Redlyn Santo
My name is Redlyn. I am a mother of two - a girl (10) and boy (4). I have been working for Kiboko as a merchandiser. I act as the link between the customers and our company. This is regarding their orders, samples, requirements, and shipments. Working for Kiboko has given me quite a vast knowledge on different topics. At Kiboko we handle customers from various parts of the country and the world ordering different styles and products. Working hand in hand with our production team we have always been able to come up with the customer's styles and achieved their quality standards. It is enjoyable having to work on different styles and ending up with a product that the customer loves. We also have the Welfare Group Kibos Sacco which I joined, and I have been able to take loans from. The money I took has helped me to improve my life and am not tightly pressed on the payment since the payment is done in favourable instalments.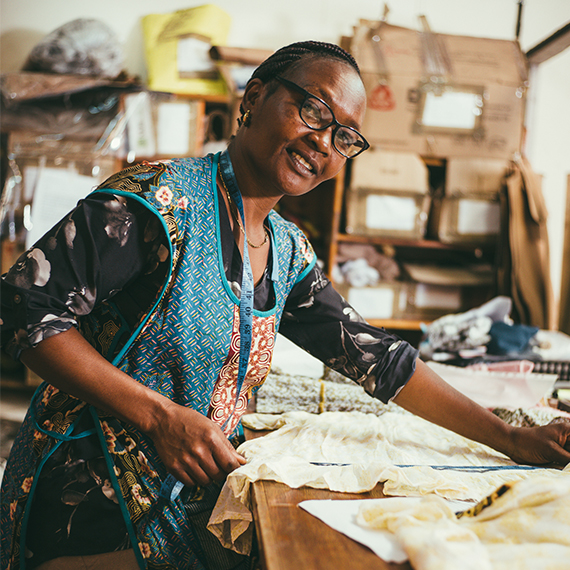 Rose Mumbi
My name is Rose from Laikipia County. I am 45 years old. I joined Kiboko in the year 1998 and was employed as a general laborer. I was then promoted to the design department to assist the designer. So far, I have gained experience in cutting of garments and patterns. While in Kiboko, I have been saving parts of my salary and taking small loans from cooperative societies. This has enabled me to buy a small piece of land in Nairobi, on which I have almost finished building my very own house. Soon I will move to my new home and stop paying house rent. This is a very good reason why I like working for Kiboko. Many thanks to Kiboko Leisure Wear. Below is a photo of my new home.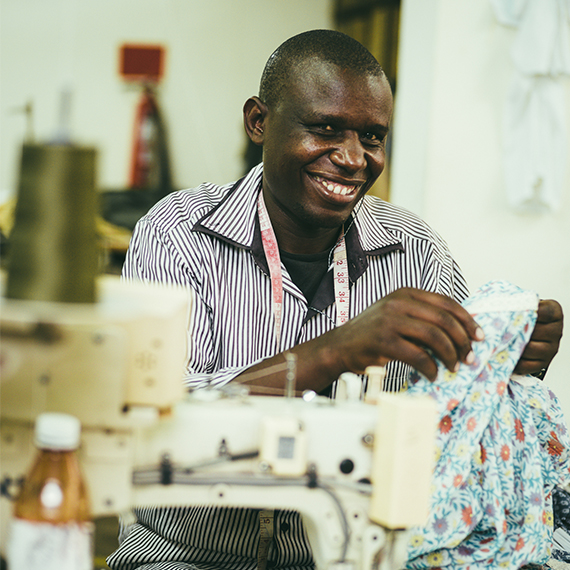 Robert Jimale
My name is Robert. I am from the Western part of Kenya. I work for Kiboko Leisure Wear Ltd as a machine operator. I joined the firm in the year 2006. The Kibos self-help group gave me a loan of one hundred thousand shillings to start a small business. I used the amount to purchase the sewing machine pictured above. I have since then employed two people in my workshop. I am delighted to own a tailoring shop which helps me paying the school fees for my two children who are in form one and three, respectively. I am grateful to be employed at Kiboko Leisure Wear and for our Kibos self-help group. Below is a photo of my son in high school.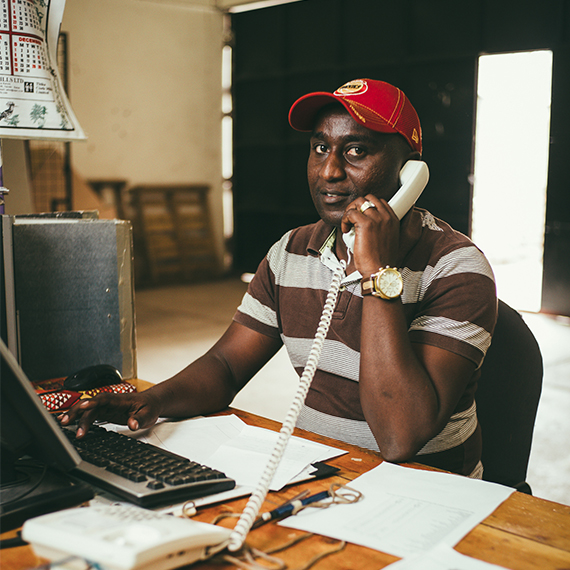 Augustine Mutua
My name is Augustine from Machakos County. I am 37 years old. I joined Kiboko Leisure Wear in the year 2007, employed as a general laborer (i.e. trimming of loose threads and ironing). In 2016, I was promoted to the cutting department where I learned more including the correct laying and cutting of fabric. Again, I was promoted In July 2018 to the production department, to oversee planning and tracking timings for all items stitched. In addition, I am also multi-tasking while updating fabric stocks and muster rolls and delivering any other job assigned to me. Many thanks to my director (Sabine Hüster) for allowing me to grow professionally and am grateful for all the opportunities. From my salary I was able to save, I managed to buy one cow. Hopefully in the next two years I will start milking and earn some extra income. Below is a photo of my cow grazing.
Joseph Kyalo
My name is Joseph from Mitaboni Sub County. I am 45 years old. I joined Kiboko in 1996 as one of their first employees. I started as a general laborer and was trained as a cutter. Over the years I gained a lot of experience and was eventually promoted as the head of cutting department. I am also in charge of organizing any repair works within the company and I open and close the factory daily. Through working for Kiboko and loans of Kibos Sacco, I have saved for a period of two years and therefore managed to take my wife to college, where she graduated with a diploma in Pharmacy. Now she is employed at one of the hospitals in Nairobi. In 2013, I also saved enough money so that I could build a house and bought an over-lock machine and a water tank. Many thanks to the director (Sabine Hüster) of Kiboko Leisure Wear.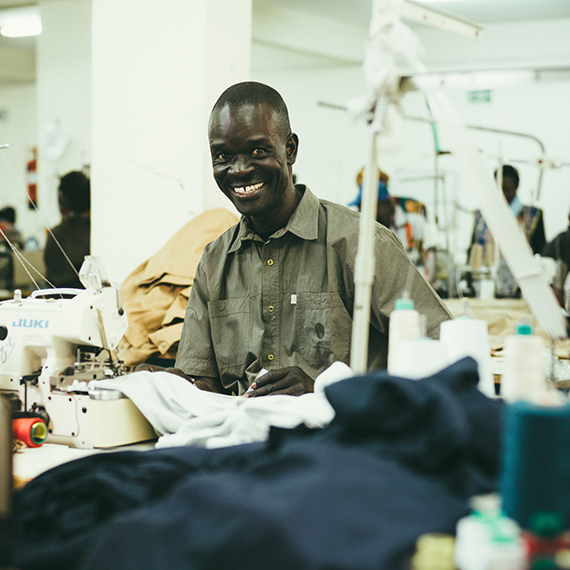 Alfred Ouma
My name is Alfred from Western Kenya. I am 42 years old. I joined Kiboko in 2009 as a flat lock operator. In addition to working at Kiboko, I also do hand embroidery which gives me an additional income. In 2010, I was introduced to Kibos Sacco. I took a loan of sixty thousand shilling and started building a house in my hometown. Below is a photo of the house.
Veronica Muli
My name is Veronica from Kitui County. I am 40 years old. I joined Kiboko Leisure Wear in 2003 as a general laborer (trimming and checking). In 2009, I was promoted to the stores department where I ensure that all deliveries are done in order. From my savings, I managed to purchase a motorbike and founded a transport company where I am employing one person. Below is a photo of my motorbike.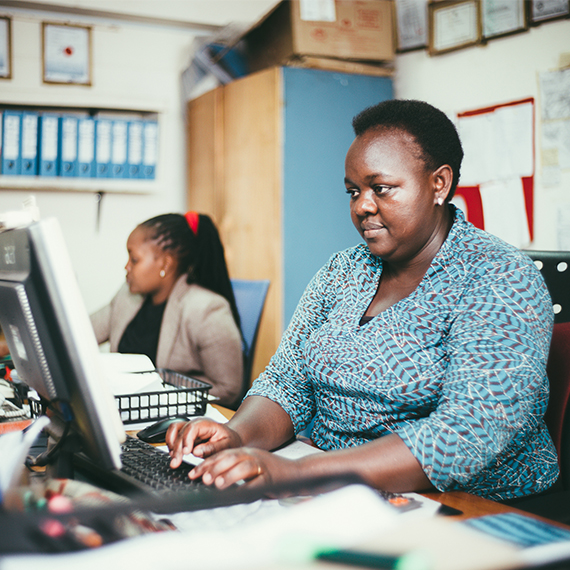 Fridah Mutie
My name is Fridah. I was employed at Kiboko Leisure Wear in the year 2000 as a general worker (trimming of garments). I have been working in different departments since then. I really thank God for allowing my director Sabine Hüster to give me the opportunity to learn while working at Kiboko. Below are departments I have worked in: • As a general worker I was trained to attach buttons using the button machine. • In the year 2001, someone was needed to work at the front office and I was trained to work as a receptionist. • At the front office I was also in charge of the accessories store • I was again promoted to accounts office to enter data via Quick books. • After gaining experience in accounts, I became account assistant and currently I oversee all accounts • So far, I have gained a lot of experience in exports and imports in regard to logistics • In absence of our director I have overseen coordinating all departments and ensuring smooth running of the company. Kiboko Leisure wear is a place where employees are given the chance to grow if they are willing to learn. Thanks to my director Sabine Hüster for believing in our abilities, encouraging and considering in-house employees for promotion before hiring any new person. Without her pushing us, most of us would not have become who we are today and achieved our goals. Also, thanks to Kibos self-help group and for the loans I have been given. Based on the loans and savings from my salary, I was able to start a business with my husband selling shoes and clothes from a shop near our home. From my salary and extra income from the shop, I have managed to pay school fees for my son. We also bought a plot and started building a house (see below photos).